Real Estate in Myrtle Beach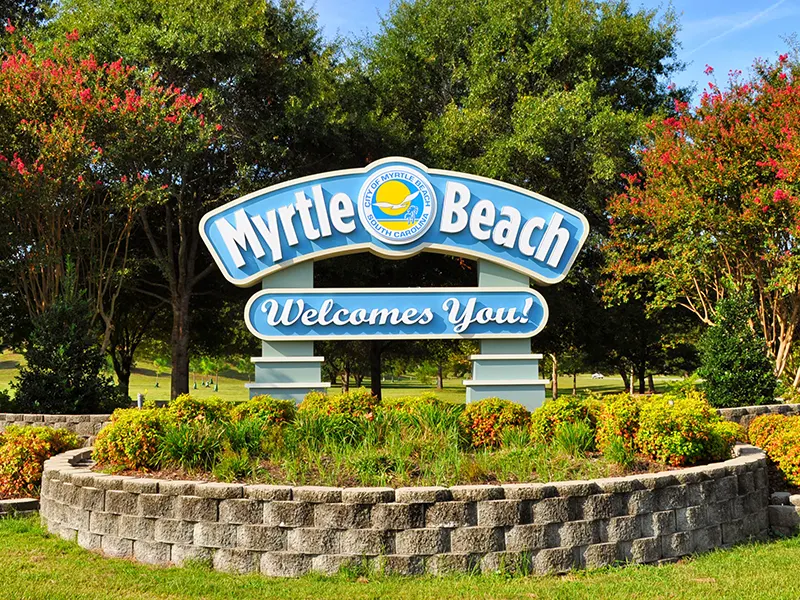 If you want to live close to the beach then Myrtle Beach is for you!
There is a 60-mile stretch of Atlantic coastline known as the "Grand Strand" in the northeastern part of South Carolina and Myrtle Beach is located in the center. Tourists know it for its beaches, golfing, and ocean front resorts, residents know it for being a wonderful place to live.
For the third year in a row, Myrtle Beach has claimed the top spot in US News and World Reports Annual list of fastest-growing places in America. The area also attracts growing families and young professionals because of its mild temperatures as well as its low cost of living. In fact, the cost of living in Myrtle Beach is around 8% lower than the national average.
The population of Myrtle Beach proper has grown in the last 13 years. From 22,759 permanent residents in 2010 to well over 35,000 in 2020. This is thanks to a range of property types, affordable housing prices and a continued interest from retirees looking to relocate near the beach.
Homes for Sale in Myrtle Beach
If you are looking to buy a home in Myrtle Beach you will not be disappointed. You can choose from gated communities such as Grande Dunes, golf course communities like Pine Lakes Country Club, active adult communities such as Cresswind Myrtle Beach, as well as affordable communities like Forestbrook Estates.
You can also find master planned communities such as Carolina Forest located off of Highway 501 right between the ocean and Conway, Sc. With its own award winning schools, restaurants, and shops it's almost like its own little city.
Myrtle Beach is not only a great place to live, it's one of the best places to play golf. With around 90 golf courses along the Grand Strand. If you are looking for a golf course home you may want to look at Myrtle Beach Golf & Yacht Club or Prestwick Country Club.
Townhomes and Condos abound in Myrtle Beach. Bella Vita Gardens is a new community of Multi family homes with patios, private yard spaces, as well as garages. Forestbrook Estates is also a new community of townhomes with a communal garden, swimming pool, playground, and much more.
Oceanfront Homes and Condos
If you are dreaming of living oceanfront then look no further than Long Bay Estates in the southern part of Myrtle Beach. In this residential community you can find oceanfront homes as well as second row homes. Some are even further inland. 
When you are looking at the coastline of Myrtle Beach you may think that you are looking at hotels, but what may surprise you is that most of the non-branded oceanfront properties are individually owned condos. Imagine owning a 2 – 4 bedroom oceanfront condo where you can make money and still own it and vacation whenever you want.
Contact me if you have any questions about buying a home in Myrtle Beach. I love to work with buyers and sellers alike!
Myrtle Beach & Grand Strand Areas